About Us
---
Dr. Below and his team of caregivers are passionate about helping people take care of their overall dental hygiene.
Dr. Below Believes That Great Smiles Are Worth It!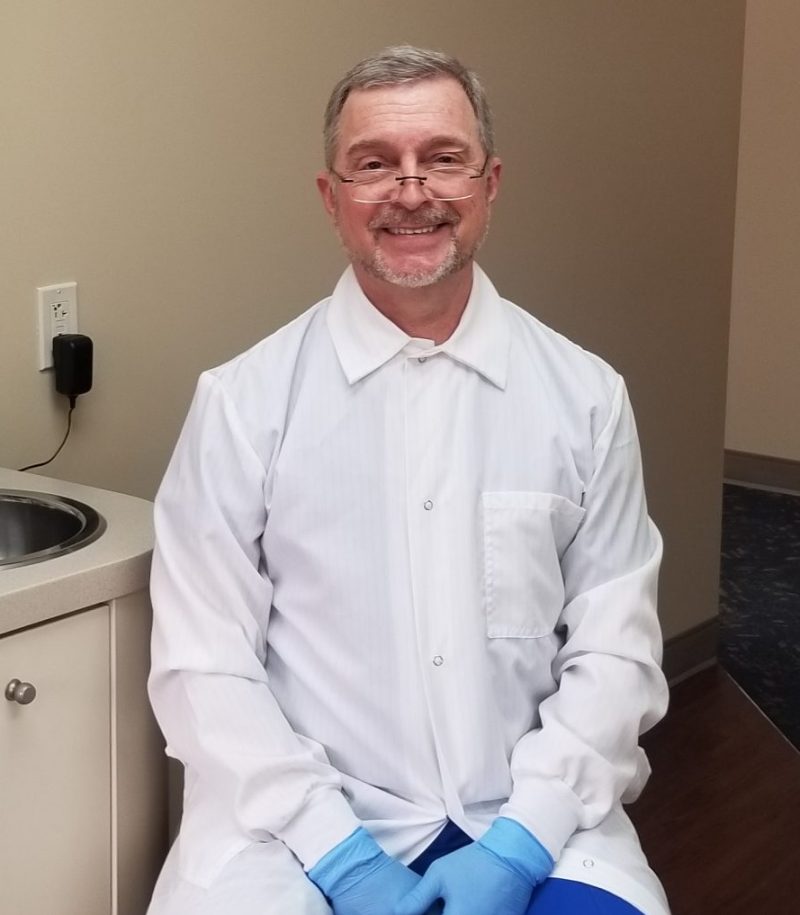 "A little of my heart is in every patient's care, and when patients feel good about being more healthy, being able to enjoy their meals, and having a smile they are proud of, that's my reward."
– Walter R. Below
Dr. Walter R. Below
Education and Background
Dr. Walter R. Below earned his Doctor of Dental Medicine degree at the University of Louisville's School of Dentistry in 1981, and he opened his practice in 1982 after graduating from his residency program. He began with three charts in the files, his mother, his brother, and himself. The practice has grown from services offered to advanced technology. Dr. Below has continued practicing in Westlake for the past 30+ years.
He is a Fellow of the Academy of General Dentistry and a General Member of the American Academy of Cosmetic Dentistry. He is also a member of the American Dental Society of Anesthesiology and the American Association of Hospital Dentists.
He has been a Clinical Instructor in the Department of Periodontics at Case Western Reserve Dental School and was also on the medical staff of St. John's Medical Center.
Currently, Dr. Below strives to stay ahead of the curve on the new techniques and information available to better serve his patients. He participates in over a hundred hours of continuing education each year, which far exceeds state licensing requirements. Dr. Below also has memberships in organizations, like the American Academy of Cosmetic Dentistry, which are focused on the future of dentistry from a scientific and/or esthetic perspective.
Awards and Accolades
Dr. Below was nominated by his peers, passed rigorous scrutiny, and was accepted into the International College of Dentists. His fellowship in this prestigious organization was bestowed at the annual meeting of the American Dental Association on October 24, 2003. The Cap and Gown Ceremony were held in San Francisco.
On a personal note: Dr. Below was accepted into the Honorable Order of Kentucky Colonels, an honor given to those with ties to the Commonwealth of Kentucky. He graduated from both the University of Kentucky with his Undergraduate degree and from the University of Louisville with his Doctor of Dental Medicine degree.
Honorable Order of Kentucky Colonel notables includes President Lyndon B. Johnson, Prime Minister Winston Churchill, and Senator John Glenn.
Our Story
Our story begins with our mission: Providing patients with individualized, high quality dental care is our goal. We pledge to use the best materials available and the latest accepted techniques in a clean, safe, pleasant, and caring environment in order to bring our patients' total oral health to an optimal level.
A highly qualified and talented staff of dental professionals ensure quality care for our patients.
"Super efficient!! Super friendly!! Just super! My family has been going here. for 24 plus years. Dr. Below is amazing. He is caring and listens to you. He is about comfort and satisfaction. His staff are so 'real' and down to earth. If you see him, you will be a long-term patient also. On a side note: Dr. Below invested heavily into air purifiers, masks, shields, and other safeguards. Feel safe and comfortable that they are ahead of the curve for Safety and Protection."

Shawn Belles
Patient
Google Review
Frequently Asked Questions
---
What dental aids or appliances do you provide at your practice?
• Veneers
• Crowns & Bridges
• All ceramic Inlays/overlays
• Silent Nite® Anti-Snoring Appliances
• PlaySafe® Mouthguards
• Teeth Anti-grinding Appliances
• Spry® Dental Defense System (for those with dry mouths)
When are you available for an appointment?
Monday: 10:00 AM – 7:00 PM
Tuesday – Thursday: 8:00 AM – 5:00 PM
Friday: By Special Appointment
Saturday – Sunday: Closed
What do you offer in the way of holistic dentistry?
We offer holistic dental services and believe in using natural materials and substances. Using nontoxic materials can improve our patient's overall health and prevent harmful chemicals from entering their systems. This, in turn, helps to prevent or reduce risks for those dealing with major systemic diseases.
Our partner, Clean Kiss, [link to Clean Kiss Website] complements our holistic approach to dentistry. Clean Kiss provides natural, organic products that kill bacteria, prevent tooth decay, heal gums, strengthen teeth, calm inflammation, balance pH, and prevent plaque buildup.
Why do I need to come for an appointment every six months?
The big picture answer is that regular dental checkups and visits with our hygienist to get your teeth cleaned can help you prevent systemic diseases like diabetes, heart disease, Alzheimer's' Disease, cancer, and many other serious conditions and is especially important for women in the childbearing years because good oral health can prevent pre-term birth.
The smaller picture is that getting that regular checkup and cleaning helps prevent the conditions that, if left untreated, can cause those big problems stated above. Therefore, getting that regular appointment can actually save you money on medical bills in the long run.
If those conditions enumerated above are already present, then effective countermeasures must be taken to manage oral health. Thus, more frequent visits and intervention treatments will be required.
Is your office easily accessible?
Our office is on the third floor of the building but is easily accessible by two elevators in the building.
What should I know about payment for services rendered?
Payment is expected at the time services are rendered unless other arrangements have been made. This includes any co-payments or deductibles (amounts not covered by your insurance).
For your convenience, our office accepts cash, Visa, Discover, and MasterCard.
Please know that you are responsible for your total obligation should your insurance benefits result in less coverage than anticipated. We do not render our services on the basis that insurance companies will pay all of our fees. We base our treatment on what is best for you. Your benefits are contracted between your employer and your insurance company.
What should I know about insurance?
• We accept most insurance plans.
• We offer a discount plan in-house if you have no insurance.
• We offer access to Care Credit. Patients can apply through our office, online at carecredit.com, or by phone at 1-800-365-8295. Payment options vary: 6-, 12-, 18-, or 24 months of interest free credit. A minimum of at least $200 over six months is required.
Please familiarize yourself with your insurance plan, paying close attention to your benefit maximums, deductibles, and covered percentages. Our staff will prepare all the necessary forms for your dental benefits. However, we remind you that your specific policy is an agreement between you and your insurance company.
What do I need to know about my first appointment?
What to Bring
A first appointment is the first step to establishing a relationship with your dentist, so knowing what you need to bring with you is important. Following is a list of items to bring:
• Insurance information/card for both medical and dental
• Photo identification
• Any medical records pertaining to your visit, including a list of medications you currently take
Arrival at Office
Arrive 15 minutes before your scheduled appointment to fill out or finish any required paperwork.